Original Christmas Cards and Paintings
by Alexandra Fenner
We are very pleased to be displaying and selling a selection of Christmas Cards and original gouache paintings by Alexandra Fenner.
Alexandra is an artist/illustrator based in Suffolk, UK. Her practice includes but is not limited to gouache paintings inspired by the beauty and tranquillity of colour and nature. Her work is often influenced by the nostalgia of travel and her memories reimagined.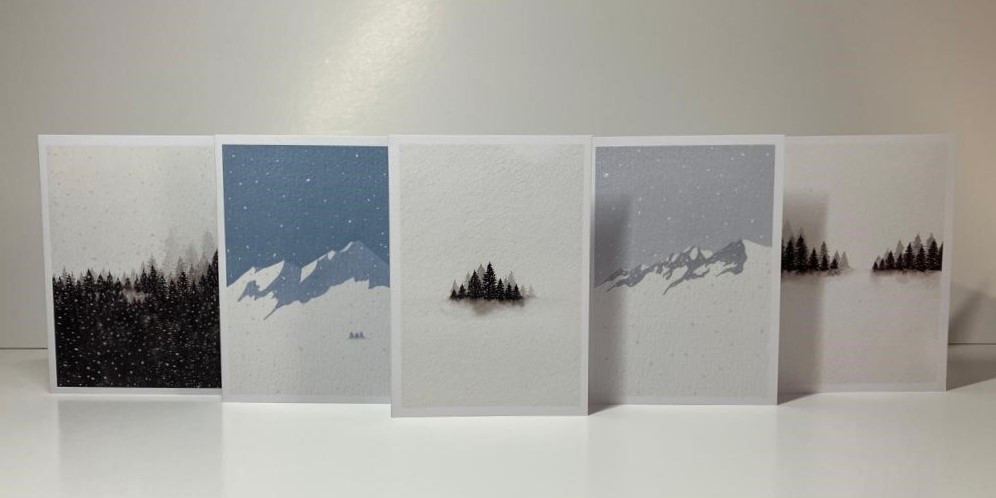 Exhibition "Le Voile Déchu"
by local fine art photographer Sandy Miles
8th – 21st October 2022
We are delighted to exhibit the work of emerging fine art photographer Sandy Miles.
Le Voile Déchu is a project that celebrates the unique beauty we each possess as women. A beauty that is not tarnished or obscured by a veil of digital manipulation, showing that skin is more beautiful than that which aims to hide it.
Much of the visual inspiration for this project has come from classical art and early Victorian portraiture, in particular the photographic nudes of nineteenth century France.
'Le voile déchu' translated from French means 'the fallen veil'; the veil of modesty, yet two hundred years on technology has enabled us to hide our beauty with a new veil, one made not of fabric, but of pixels.
Working only with a manual film camera, Le Voile Déchu aims to show the true beauty of women, the beauty behind the veil of digital manipulation.
Meet the artist
Saturday 8th & 15th October, Wednesday 12th & 19th October from 11am – 3pm.
About Sandy Miles
Sandy Miles is an art photographer currently living and working in Suffolk. Returning to education as a mature student, she went on to be awarded a distinction grade for a Level 3 Diploma in Art and Design with UAL, before graduating with a first-class BA (Hons) in Photography from the University of Suffolk in 2021.
Working predominantly with analogue photographic mediums, Sandy uses her camera, and different film emulsions, as tools with which to paint with. Her aim is to encourage the viewer to not only look, but to also engage with her work; it is this fascinating relationship between the photographer, the photographed and the spectator that ultimately informs her practice.
Private Commissions
If you would like a photoshoot that celebrates your own unique and individual beauty, that's just for your own wall and personal use, then please do contact Sandy.
David Chow
Fine Art Photographer and Print Artist
We are delighted to be able to exhibit and sell some of the last pieces of work completed by David Chow before his untimely death in 2014. We have a collection of David's beautiful black and white prints together with a small number of the last framed cyanotypes which he produced. These were first released in 2007 in the edition "Cyan", limited to 18 copies, showing hand printed Cyanotypes of flowers from Volumes 1 to 3 of his Expressive Flower Series.
David Chow was a fine art photographer based in Cambridge. He studied photography at degree level with printmaking at master's level, at the Cambridge School of Art. David started his career by producing striking black and white images of flowers, before turning his eye to original photographic printing techniques. David became well known as an exquisite Cyanotype and Platinum Palladium print artist. He was passionate about using these techniques, as they had an ability to capture an expansive tonal range and a unique luminescence.
The power of David's photography lies in its simplicity and he was able to capture beauty in both living and dying flowers. Provided with a constant array of flowers by his mother Joy, a floral designer, his work explored the beauty of the flowers and the interplay of light and composition. Using large and medium format cameras, and using only natural daylight, his photographs captured the most intimate and subtle details of each flower.
David published three limited edition hand-made books and portfolios that form part of the' Expressive Flower Series'. Beautifully hand bound, these books merged David's love of poetry, flowers and photography all into one art form. David was represented by a number of galleries in the UK, US and Europe and his work is now held in numerous private and corporate collections.
As well as printing his own work, David was a highly respected printer of other people's work and his skills were much sought after. He completed several commissions for The National Portrait Gallery and the estates of Norman Parkinson and Sally Mann but to name a few.
Walking with Trees
An Exhibition of original artworks and photography by John Martyn and Juli Fejer
8th April 2022 – 7th May 2022
We are very pleased to be holding an Exhibition in April featuring artwork by Juli Fejer and photographs by John Martyn. The theme of the exhibition "Walking with Trees" reflects the passion of both artists for the natural world and their fascination for the secret language of trees and the well-known healing powers of walking through forests. The exhibition is a celebration of the many aspects of the ancient woodlands of Suffolk; ancient oak trees, shimmering glades, wide open vistas, and water-meadows.
About Juli Fejer – Juli Fejer began making art to escape the chronic pain of fibromyalgia.  She identifies in the tradition of the outsider artist, crediting her father, an émigré designer, and grandfather, a Hungarian watercolourist, as her teachers.  What started as a pain management technique quickly became her passion.  She has a lifelong love of nature and walking and draws much of her artistic inspiration from the countryside around Bury St Edmunds.
Last year one of her paintings was selected for the Royal Academy Summer Exhibition.  Juli was chosen to appear in a BBC2 documentary about the exhibition which can be viewed on BBC iPlayer, through the link on her website.  She was selected for the prestigious ING Discerning Eye exhibition at the Mall Galleries in 2020, and 2021.  In February 2022, one of her landscape paintings was in Awash 22, the exhibition of the Society of East Anglian Watercolourists.
Juli Fejer website – www.julifejer.com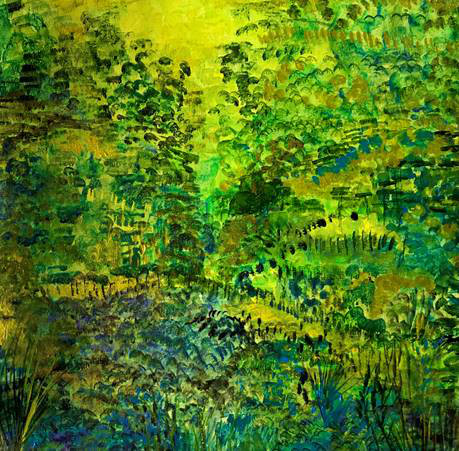 Juli Fejer – Biophilia – Acrylic on Canvas
About John Martyn – John has a lifelong passion for walking and the outdoors is particularly interested in the ancient woodlands that form such an important part of the Suffolk landscape. He is passionate about the history of these areas and how climate change threatens the fragile balance of their ecology. Through his photography, he hopes to highlight the beauty, charm and mystery of these ancient trees and encourage others to rediscover a connection with the diverse and magical natural world that they create.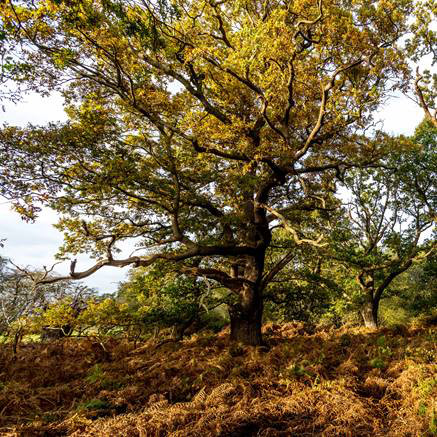 John Martyn – Old Broome Ancient Oak
Creative Education Centre – Photography Project
We are delighted to have collaborated on a Photography Project with the Creative Education Centre based in Bury St Edmunds. 12 children aged between 6 and 12 were given a number of disposable cameras between them and asked to explore Bury on the themes of "Colour" and "Up and Down". The resulting images were joyous, insightful and surprising and we are thrilled to be able to display them as a collection in the Studio, and particularly for the children to be able to see their work displayed in the gallery.
Exhibition Space at A Plan Insurance in Bury St Edmunds
We were delighted to be offered the window display in the A Plan Insurance offices in Brentgovel Street to set up a permanent exhibition of photographs. We hope this will provide an ever-changing experience for A Plan's customers and everyone passing by.
When the Punters Have Almost Gone  – Images by Kim Ian Bell
In 1989, Kim worked for a commercial and industrial photographer and went to college in London to gain his professional  photography qualifications. As Kim says himself – "it all started when I was a small child; my father would sit me on a stool in his darkroom and I would watch excitedly as an image slowly appeared on a blank piece of paper – I thought this was magic. Now in the autumn years of my life, I am enjoying making images for myself, mostly monochrome and digital infrared as you see in this exhibition.  I still have my film camara and darkroom equipment and hope to exhibit some film photography and hand-made prints in the future."
This new work showcases the end of the summer season at the coast: landscape, seascape and street photography, all photographed in infrared
We are delighted to be exhibiting this new evocative work by Kim.
You can find more of Kim's work at www.tonalityphotos.co.uk
Breathe – An Exhibition by Sandy Miles
Sandy Miles is an art photographer living and working in Suffolk. Awarded a distinction grade for a Level e Diploma in Art and Design with UAL, she then went on to graduate with a first-class BA (Hons) in Photography from the University of Suffolk in 2021.
Discussing the new collection, Sandy commented: "Breathe was shot in the early spring of 2021, when the new growth on the deciduous trees appeared to almost glow in the hard morning light. The slow pace of shooting film, together with being with these majestic trees allowed me to breathe, not just physically, but spiritually too".
This exhibition is now closed but we continue to stock a selection of Sandy's work (mounted but not framed).
Art Around Town was a public art installation running alongside the Moyses Hall 'Moments' exhibition and aiming to inspire people to get out and explore their surroundings. Hundreds of pizza boxes were given away to local artists who were encouraged to 'Think outside the box' and create a piece of work based on the theme 'What makes Bury Tick?'
These pizza boxes artworks were then installed all over the town, everywhere from the aviary in the Abbey Gardens to shop windows. Guildhall Studio displayed the fantastic work of 30 different local artists. The installation ran from 1st July 2021 until the end of summer and was hugely successful. We hope to do a similar project in 2022.
Exhibition at Addenbrookes Hospital, Cambridge
We were very pleased to have been offered the chance to mount an exhibition of photographs at Addenbrookes Hospital in Cambridge in 2021as part of the overall Arts Project at the hospital. Due to COVID restrictions, we have temporarily removed the exhibition, but hope to re-exhibit again in 2022. The proceeds of any sales will continue to be shared with Addenbrookes.
We took part in the "Hidden Gardens of Bury" open day on 11th July 2021. We have created a small but vibrant town garden outside the back of the studio, that customers could wander through to and enjoy some calm away from the bustle of town. The garden is now a permanent feature at the back of the studio, where we are also able to display photographs in an outdoor setting.
We hope to take part in the Hidden Gardens of Bury again in 2022.